Venue: Groom's family property in Days Creek, Oregon
Catering: The family put together all the delicious food!
The Dress: David's Bridal
Hair: Kaitlin Jarvinen at Kaitlin's Hair and Full Body Waxing Services
Makeup: Stephanie Pires
Kyle's suit: Men's Warehouse
Cake + Cupcakes: Unique Custom Creations by Amber
Rentals (tables, chairs, linens reception tent): Destination Events
DJ: Destination Events, DJ Joe
This wedding was full of so much goodness, it's hard to know where to begin! Kyle and Cami got ready to say 'I do' in the comfort of Kyle's family home in Days Creek. Their wedding and reception took place right on the property near the river. It was gorgeous! Words really can't do it justice, so let's jump right in and get to the photos!
While Stephanie and Kaitlin worked their beautifying magic on Cami, Kyle was downstairs preparing to see Cami in her wedding gown for the first time in a private First Look before the ceremony.
Ready to get the dress on! Both of the mothers (Sherry and Cheri!) were happy to help Cami get into her dress before heading outside for the First Look!
This was, so far, the most touching First Look I've had the pleasure of photographing! Kyle and Cami were so overwhelmed with emotion, and so were we! Good thing we were hiding behind our cameras!
Just a few more portraits before the ceremony!
The theme was sunflowers and royal blue, and there were little touches of each throughout the reception and ceremony. We loved the little sunflower lollipops and souvenir seed packets!
Everyone was in high spirits as we waited for the ceremony to begin!
Even though he'd already seen Cami during their First Look, that "wow" factor is definitely still present, and it's unmistakable on Kyle's face as he sees his Bride approaching!

The ceremony began with an opening prayer read by Cami's grandpa Charlie. The wedding was officiated by Kyle's brother, Ryan.
It's time to get this party started!
Those pretty cupcakes were amazing! Amber Walter of Unique Custom Creations always makes the yummiest little cupcakes. Those coconut cream ones are my fave!! And the food?! Let me tell you, this family went ALL OUT to cook up some DELICIOUS food! There was Tri Tip, grilled chicken, tons of homemade sides, slow cooked baked beans, and cool salads. Ice cold tea, lemonade and water kept us all cool on this warm day!
For the ring shot, I wanted to keep with the color scheme and decided to incorporate Royal Blue! I wanted something a little edgy, so I combined flash with a bit of mist on this sparkly blue backdrop. I love a good ring shot, and this is one of my favorites to date!
Kyle and Cami danced their first dance as husband and wife to Ed Sheeran's "Thinking Out Loud"
Not everyone was excited to party it up, though! This little fellow was ready for a nap by the time things were getting more upbeat! Isn't he just so precious?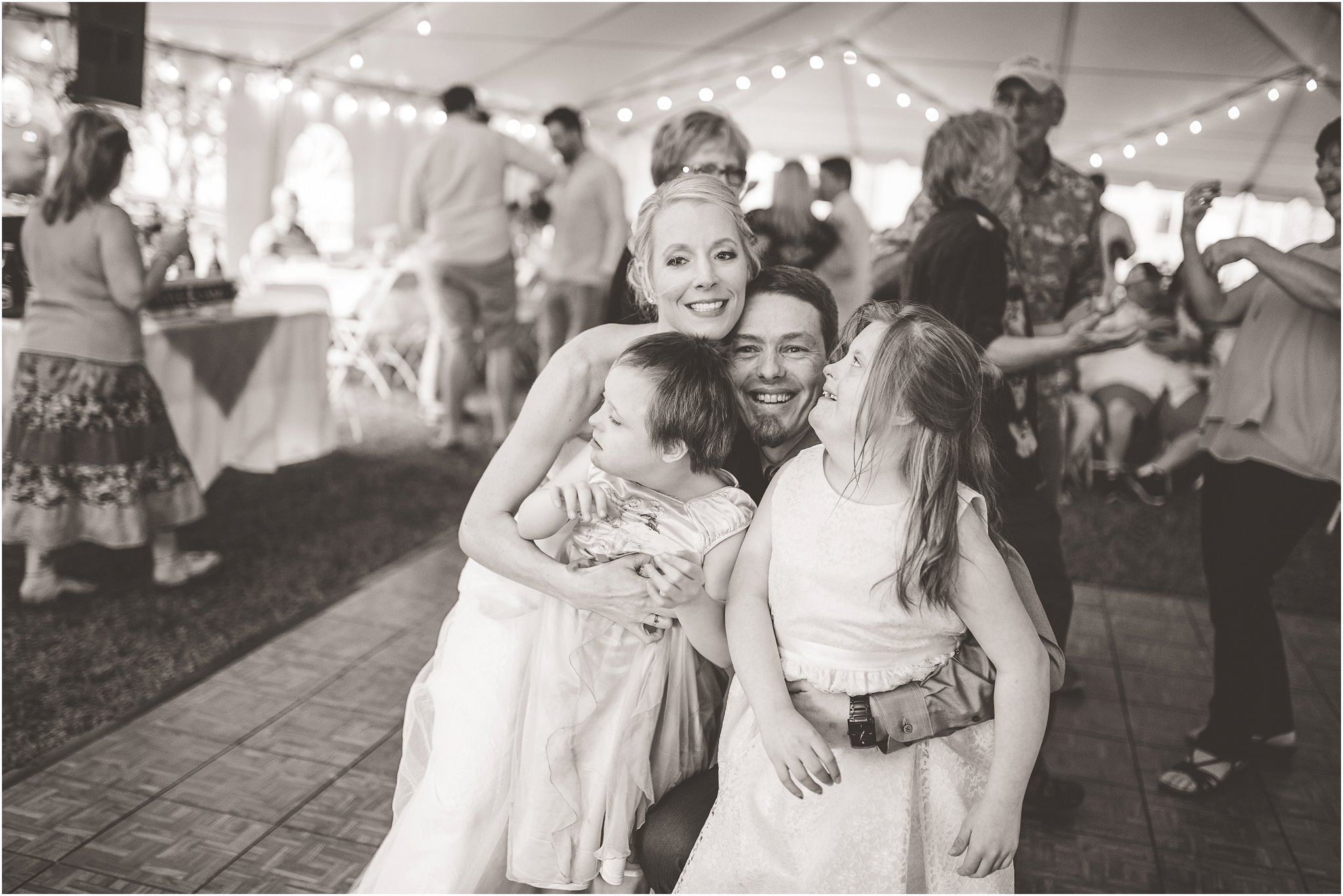 Everyone danced well into the night and had the best time! Seriously, this wedding was so fun!! Lots of good vibes, good people, good food and a big, loving family to share it all. You can't ask for a better wedding day than that!
Just before sunset, we made our way down to the riverbed and took some Bride and Groom portraits in this dreamy, delicious golden hour light. The changing colors as the light began to turn blue were just perfect, soft and the absolute BEST light for some romantic photos of Kyle and Cami.
A big thank-you goes out to my second shooter, Janae! Thank you for your part in this wedding, and for always being awesome every time we work together!
We wrapped up the night with the perfect sparkler shot. A super huge THANK YOU goes out to the guests who helped make this photo so great! Thanks for being such a great crowd, guys!!!
Thanks to Jim and Sherry, and all the rest of the family, for making us feel welcome! It was lovely meeting you all! Thank you soooo much, Kyle and Cami, for choosing me to capture your big day! It was a true pleasure to be with you through so many wonderful moments, and it's even more wonderful to be able to give you these images so you'll always remember your perfect day! Wishing you both a lifetime of love and joy!!
xoxo
Christina